The Honorable Biosphere is a written story following a comic theme. It is written by Aaron Nellis.

ISSUE #1

Accidental Genesis Part 1
The first issue of the Honorable Biosphere written "comic", Accidental Genesis, brings you the scientist and college professor Aaron Nellis as he enters Paragon City for the first time and takes his new job at Sai Labs.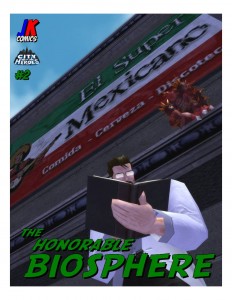 ISSUE #2

Accidental Genesis Part 2
The second issue follows Scientist Aaron Nellis rejoining the teaching system as he discovers the new abilities he holds, but all is not good. Something wrong is happening at the newly rebuild Sai Labs and it's up to Nellis to stop it.

ISSUE #3

Accidental Genesis Part 3
In the smashing conclusion of Accidental Genesis, Professor Nellis takes his first steps up into the world of superheroism. But is it his last as he goes toe-to-toe with the Beserkasaurus? Will Nellis last long enough to even figure out his superhero name?